Exterior / Interior
Design Concept
Based on the concept of "Superior quality with a touch of nostalgia", the train has a "nostalgic modern" design, which creates an air of refinement and a relaxing, evocative atmosphere.
Exterior
The "MIZUKAZE Green" exterior, inherited from the former Twilight Express, blends into the surrounding landscape, and is accented with a gold emblem and trim. The streamlined head car has an observation deck surrounded by five sweeping rails, and with round headlights, and a driver's compartment reminiscent of locomotives from a bygone era, it evokes a sense of nostalgia.
Interior
The interior is inspired by Art Deco, a style popular in the 1920s and 30s. The cars contain decorative touches from regions along the routes. The large windows give sweeping views of the spectacular flowing scenery. Relax next to an open window, or step out onto the observation deck to feel the breeze.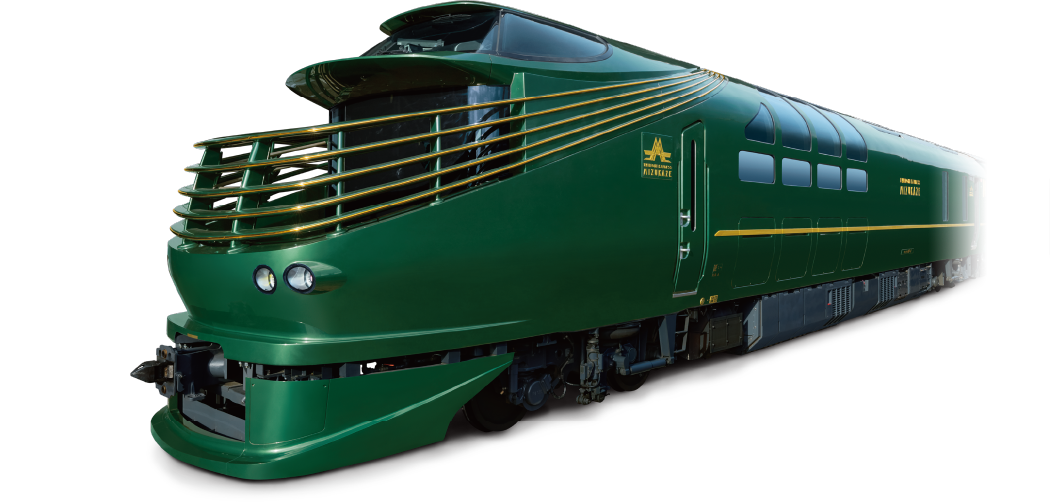 *Hybrid system
(diesel-generated electric power, and battery-assisted motor drive.)

[ Car No. 10 ]

Observation Car

[ Car No. 9 ]

ROYAL TWIN

[ Car No. 8 ]

ROYAL TWIN

[ Car No. 7 ]

THE SUITE

[ Car No. 6 ]

Dining Car*

[ Car No. 5 ]

Lounge Car

[ Car No. 4 ]

ROYAL TWIN(Universal design)

ROYAL SINGLE

[ Car No. 3 ]

ROYAL TWIN

[ Car No. 2 ]

ROYAL TWIN

[ Car No. 1 ]

Observation Car
*For departures up to June 2022, the Dining Car is not in use. Guests will have meals served in their rooms. You can view meal preparations in the open kitchen.
Living / dining

Bedroom

Bathroom (with a tub)

THE SUITE[ Car No. 7 ]

Something truly rare: a suite comprised of an entire rail car. With an entrance, private balcony, living/dining room, bedroom and bathroom with a bathtub, it has all the facilities befitting a suite.

See Car Diagram

ROYAL TWIN[ Car No. 2 ][ Car No. 3 ]
[ Car No. 8 ][ Car No. 9 ]

ROYAL TWIN(Universal design)[ Car No. 4 ]

Has doors made with wood from the five prefectures of the Chugoku region, and custom-made traditional crafted items from regions along the route. The retractable beds create a large area in which to relax during the daytime. Scenery on both sides of the train can be enjoyed from the large windows, some of which open to let in the fresh breeze.

There is one barrier-free room. It can be used by wheelchair users.
Compared to the other Royal Twin rooms, the view from the aisle side is narrower.

See Car Diagram

Daytime

ROYAL SINGLE[ Car No. 4 ]

Has doors made with wood from the five prefectures of the Chugoku region, and custom-made traditional crafted items from regions along the route. The retractable beds create a large area in which to relax during the daytime. The passing scenery can be enjoyed from the large windows, some of which open to let in the fresh breeze.

See Car Diagram

Dining CarDINER PLEIADES[ Car No. 6 ]

You can experience the live feel of onboard meal preparation communicated from the open kitchen. Enjoy cuisine prepared by culinary artisans while gazing out of the large windows at the beautiful passing scenery.

*For departures up to June 2022, the Dining Car is not in use.
Guests will have meals served in their rooms.
You can view meal preparations in the open kitchen.

See Car Diagram

Lounge CarSALON DE L'OUEST[ Car No. 5 ]

The lounge car has a bar counter, table and chairs for tea ceremony, and a boutique area. Enjoy fascinating conversation and the hospitality of MIZUKAZE surrounded by the car's relaxing wooden interior.

See Car Diagram

Observation Car[ Car No. 1 ][ Car No. 10 ]

The observation room has an open feel, where you can take in the whole sky, the stars, and the passing scenery. Step out onto the observation deck to enjoy the fresh breeze.

*When the observation deck is crowded, we may ask guests to take turns.

See Car Diagram